F.U Peritoneal Cancer – V3.0
Give the middle finger to peritoneal cancer with this F.U Pin. Peritoneal cancer is a rare cancer and is the main reason for me starting this charity project. It's the cancer that stole a daughter from my grandma, a wife from my dad, a mum from me and my sister and a grandma from four grandchildren!
This pin was designed by my mum, who integrated her favourite colour and flower into the design. The jasmine flower is associated with love and in some cultures represents appreciation and good luck. So, quite an apt flower to include in this pin.
F.U Peritoneal Cancer Pin has been created to let my family and friends – and anyone affected – give the middle finger to this cancer while raising money for a charity that helps fund research into this rare cancer.
Limited edition of 100 (50 of each colour)
Soft black enamel and clutch
Available in White and Purple
This pin has a glitter finish
Approx 30 mm x 16 mm
All profits go to charity (£5.20 from every sale)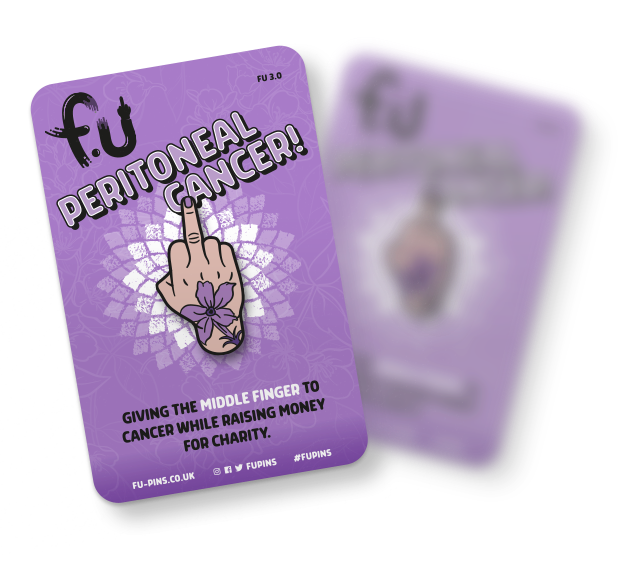 The peritoneum is a layer of thin tissue that lines the inside of the tummy (abdomen) and covers all of the organs within it, such as the bowel and the liver.
The causes of PPC are unknown. Most cancers are caused by a number of different factors working together. Research suggests that a very small number of PPCs may be linked to the inherited faulty genes BRCA 1 and BRCA 2.